NAMASTE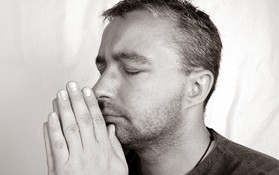 In India, the word namaste is used as a greeting whenever people meet or part. It is intended to remind us who we truly are. Namaste has three levels of meaning:
1. "I honour the Light within you."
2. "The Light in me honours the Light in you."
3. "I honour the sacred place within you where – when you are in yours, and I am in mine – there is only One of us."
Namaste can remind us that peace, happiness, love, and light are within us. It reminds us to keep our consciousness rooted in that place. No matter what brings us together with another human being, namaste is a reminder to use each of our relationships as opportunities to awaken. [Excerpted from: John E. Welshons, One Soul, One Love, One Heart: The Sacred Path to Healing All Relationships (Novato, CA: New World Library, 2009), 130-131.]
In short: "In India," Ram Dass writes, "when people meet and part they often say, 'Namaste', which means: I honor the place in you where the entire universe resides; I honor the place in you of love, of light, of truth, of peace. I honor the place within you where if you are in that place in you and I am in that place in me, there is only one of us . . . 'Namaste'." [Source: Joan Chittister, The Rule of Benedict: Insights for the Ages (New York: Crossroad, 2009), 141.]
From a Christian perspective, this greeting prompts reflection. The Scriptures refer to a state of being where the Spirit of God may dwell within a person (see Romans 8:9 – ". . . if the Spirit of God lives in you . . ." NIV). Additionally, the Scriptures also state how the Christ can be in a person (see Col 1:27 – ". . . this mystery, which is Christ in you . . ." NIV). The Christ living within is also mentioned in Romans 8:10, 2 Corinthians 13:5, Galatians 2:20, and Ephesians 3:17.
Truly life itself, in many ways, is a mystery – a mystery to be pondered and contemplated upon.
Photo credit: Intellimon Ltd.