ENLIGHTENMENT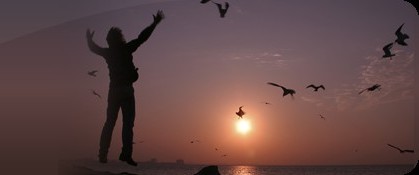 The Sacred Word reveals that enlightenment – life with a spiritual awareness or life in the Spirit – does not come from our initiative. Our spiritual awakening is a sheer gift from God, and continues to be sustained by the graciousness of God. It is primarily God's initiative: "It is by grace . . . and this not from yourselves, it is the gift of God – not by works, so that no one can boast" (Ephesians 2:8-9, NIV).
Since the initiative in the spiritual journey comes entirely from God – that is, through Jesus, since "he is the image of the invisible God" (Colossians 1:15) – our own qualifications and worthiness are not the determining consideration. He chooses and calls us not for anything we have merited. Jesus finds and calls us to follow him where we are. He comes to meet us to call us forward into a depth of life that we had not imagined (see for example, Luke 5:1-11).
As Jesus leads us onwards to a deeper life, he also calls us to let go of that which inhibits our freedom to follow him. These include (see Matthew 10:37-39):
§ Our illusions of ourselves.
§ Our self-protective instincts.
§ Our ignorance and weakness.
To hear him, to move forward, means a "letting go" of what we have been clinging to. This can entail a certain suffering. In the tradition of Christian spirituality, this is referred to as the via negativa, the way of initial purification. It gives way, however, to the via illuminativa – an enlightenment in which the values of the gospel increasingly take possession of us. The final stage, under the influence of grace, is the via unitiva, the way of union, an experience of being one with God and sharing the divine life of communion.
The Christian spiritual journey, then, begins in grace and leads to transformation. We are led from:
§ Fear to love
§ Slumber to wakefulness
§ Hardness of heart to surrender
§ The "old self" (or false self) to the "new self" (or true self)
§ Death to life
§ A self-protective stance to that of self-giving and surrender
We know we are moving in the right direction when there is evidence of the "fruit of the Spirit" in our lives, identified by St. Paul: "love, joy, peace, patience, kindness, goodness, faithfulness, gentleness and self-control" (Galatians 5:22-23, NIV).
In sum, to listen to Jesus is to be enlightened and transformed by his living presence as the Word of God. Also, we find him in the community of others who share faith, and we meet him in our suffering neighbour (in Matthew 25:40 we read these words: "I tell you the truth, whatever you did for one of the least of these brothers of mine, you did for me" [NIV]).
Christian spirituality, then, offers a true path of awakening and enlightenment. Since our natural sense of identity, awareness, and perception are distorted and clouded, through enlightenment we come to see ourselves and the world more clearly.
Source: I am indebted to David Ranson, Living in the Holy Spirit (Sydney: 2008), for most of the material in this summary.
Photo credit: Intellimon Ltd.