COMMUNITY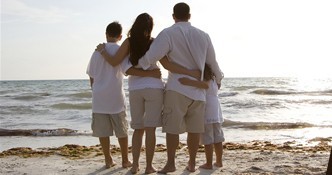 As much as we may enjoy a private spirituality, or have been disillusioned by organized religion, throughout the Christian spiritual tradition, it becomes clear that God's call to us is addressed not just as individuals – but also as a people bound to one another in community, and even united in a "new covenant".
The community that God calls into existence is called a church. In the early Church, the word koinonia referred to fellowship with God and with one another. This reflects the place of community in our spiritual journey.
The Sacred Word shows that as pilgrims on our journey through life, we move on together. Our shared faith and love are the visible evidence of the God who dwells among us and calls us on to see him face to face. Consider for example:
▪ By this all men will know that you are my disciples, if you love one another (John 13:35, NIV).
▪ Whoever does not love does not know God, because God is love (1 John 4:8, NIV).
▪ Whoever lives in love lives in God, and God in him (1 John 4:16).
The First Letter of St. Peter further highlights the place of community in spirituality – in this case, it refers to the attitudes of heart and mind that build up the community to which God calls us:
▪ Finally, all of you, live in harmony with one another; be sympathetic, love as brothers, be compassionate and humble. Do not repay evil with evil or insult with insult, but with blessing, because to this you were called so that you may inherit a blessing (1 Peter 3:8-9, NIV).
▪ Love one another deeply, from the heart (1 Peter 1:22, NIV).
▪ Above all, love each other deeply, because love covers over a multitude of sins. Offer hospitality to one another without grumbling. Each one should use whatever gift he has received to serve others, faithfully administering God's grace in its various forms (1 Peter 4:8-10, NIV).
Finally, Christian community is also expressed through hospitality – the welcome of others into a communal life. Consider the following passages from the Sacred Word:
▪ Do not forget to entertain strangers, for by so doing some people have entertained angels without knowing it (Hebrews 13:2, NIV).
▪ I was a stranger and you invited me in (Matthew 25:35, NIV) – Jesus, himself, is encountered in our welcome of the stranger.
▪ I tell you the truth, whoever accepts anyone I send accepts me; and whoever accepts me accepts the one who sent me (John 13:20, NIV).
In sum, the community is the locus for the Christian spiritual journey – for spirituality.
Source: I am indebted to David Ranson, Living in the Holy Spirit (Sydney: 2008), for material in this summary.
Photo credit: Intellimon Ltd.